Description
Potatoes and its nutritional benefits 

POTATOES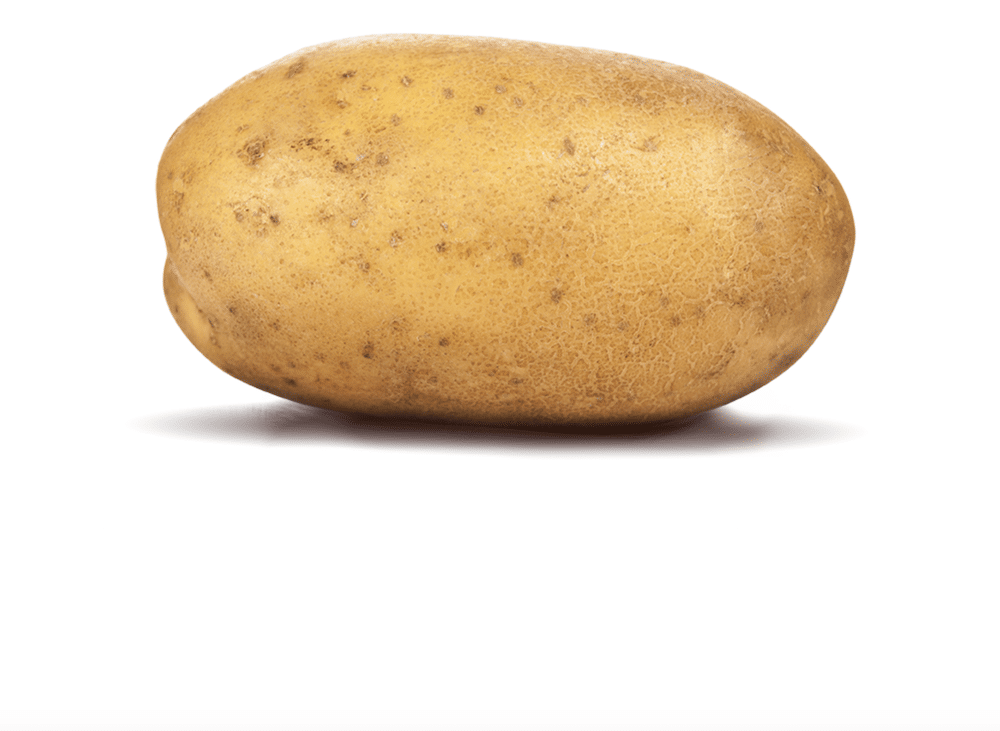 They are an underground tuber that grows on the roots of the Solanum tuberosum plant. Potatoes are relatively cheap, easy to grow and packed with a variety of nutrients. More recently, scientific studies have revealed that potatoes should not be shunned. They should be embraced instead for offering a rich source of minerals including phosphorus, calcium and zinc, as well as B6, B, and C vitamins.
Potatoes are highly nutritious and pose a magical quality of vitamins. It dominate the world as the 4th largest food crop, and  it is a known fact that more than 1/3 of the world's potatoes are actually now grown in China and India, where they represent an essential part of their cuisine, as well as the cuisine of many of their neighboring countries.
One important note is that, potatoes are a good source of antioxidants, which may reduce the risk of chronic diseases like heart disease, diabetes and certain cancers7 Health and Nutrition Benefits of Potatoes.
Nutritional value of Potatoes
A 100-gram (g) or 3.5- ounce serving is a little more than half of a medium size potato. This much white potato, baked with skin, contains:
| | |
| --- | --- |
| Components | Value |
| Carbohydrates | 21.08g |
| Protein | 2.10g |
| Calories | 94 |
| Dietary Fiber | 2.1g |
| Fat | 0.15g |
| Cholesterol | 0g |
| Calcium | 10mg |
| Iron | 0.64 |
| Magnesium | 27mg |
| Phosphorus | 75mg |
| Potassium | 544mg |
| Vitamin C | 12.6mg |
| Vitamin B6 | 0.211mg |
| Folate | 38mcg |
Nutritional benefits of eating potatoes
1. It aids digestion
Since potatoes predominantly contain carbohydrates, they are easy to digest and they also facilitate digestion. This property makes them a good diet for babies or for those who cannot digest hard food, but need energy. Potatoes also contain a considerable amount of fiber or roughage, and fiber supports digestion and promotes bowel regularity by adding bulk to stool. It is also known that the resistant starch in potatoes 12.6mgmay also improve digestive health. Resistant starch from potatoes is mostly converted into the short-chain fatty acid butyrate — the preferred food source for gut bacteria.
Studies have shown that butyrate can reduce inflammation in the colon, strengthen the colon's defenses and reduce the risk of colorectal cancer.
Moreover, butyrate may aid patients with inflammatory bowel disorders, such as Crohn's disease, ulcerative colitis and diverticulitis.
It promotes good heart health
The potato's fiber, potassium, vitamin C, and vitamin B6 content, coupled with its lack of cholesterol, all support heart health.
Potatoes contain significant amounts of fiber. Fiber helps lower the total amount of cholesterol in the blood, thereby decreasing the risk of heart disease.
Improve brain health

Proper functioning of the brain depends largely on the glucose level, oxygen supply, various components of the vitamin-B complex, and certain hormones, amino acids and fatty acids like omega-3. Potatoes cater to almost all the needs mentioned above. They are high in carbohydrates, and thereby maintain good levels of glucose in the blood. A number of vitamins and minerals present in potatoes positively affect the function of the brain (including zinc, phosphorus, and B complex). Vitamin B6 is particularly critical to maintaining neurological health. Therefore, eating potatoes can help boost cognitive abilities.

It helps to reduce blood pressure
UK scientists at the Institute for Food Research have identified blood pressure-lowering compounds called kukoamines in potatoes. Previously only found in Lycium chinense, an exotic herbal plant whose bark is used to make an infusion in Chinese herbal medicine. Kukoamines were found in potatoes using a new type of research called metabolomics.
Since high blood pressure can occur for a number of reasons that include diabetes, tension, indigestion, nutrient balance, diet, and many others, different treatments are required. Luckily, potatoes can alleviate multiple possible causes and can be used to relieve high blood pressure due to tension. They can also treat indigestion due to an abundance of vitamin C and fiber within, but they should be avoided if the high blood pressure is as a result of diabetes. The fiber present in them is helpful in lowering cholesterol and improving the functioning of insulin in the body, which aids in the lowering of blood pressure. This is because there is a direct relationship between blood pressure and the glucose level in the blood; insulin helps regulate that glucose level. Furthermore, thepotassium found in potatoes (roughly about 46% found in our daily requirement per serving) lowers blood pressure, since it functions as a vasodilator.
5.  It helps control blood sugar
Potatoes contain a special type of starch known as resistant starch. This starch is not broken down and fully absorbed by the body. Instead, it reaches the large intestine where it becomes a source of nutrients for the beneficial bacteria in your gut.
Research has linked resistant starch to many health benefits, including reducing insulin resistance, which, in turn, improves blood sugar control.
6. Skin Care
Vitamin C and B-complex, as well as minerals like potassium, magnesium, phosphorus, and zinc, are good for the skin. Apart from that, the pulp obtained from crushed raw potatoes, when mixed with honey, can work well in skin and face packs. This even helps cure pimples and spots on the skin. Again, this pulp, if applied externally on burns, provides quick relief and faster healing. Smashed potatoes and even water in which they have been washed are very good for softening and cleaning dark skin, especially around the elbows.
It can also help to remove dead skin cells. It has been known that potatoes can do wonders to exfoliate your skin from within. "The antioxidant rich peels can be applied to skin to exfoliate the skin. Doing this can help remove dead skin cells and rejuvenate your skin
Good for bones
The iron, phosphorous, calcium, magnesium, and zinc in potatoes all help the body to build and maintain bone structure and strength. Iron and zinc play crucial roles in the production and maturation of collagen.
Phosphorus and calcium are both important in bone structure, but it is essential to balance the two minerals for proper bone mineralization. Too much phosphorus and too little calcium result in bone loss and contribute to osteoporosis. Therefore, a balance must be stroked in order the best nutritional value.
8. Weight management
Potatoes are primarily made of carbohydrates, fibers and contain protein and are low on fats. The dietary fibers are commonly recognized as important factors in weight management and weight loss because they act as "bulking agents" in the digestive system. They increase satiety and reduce appetite, so a person feels fuller for longer and is less likely to consume more calories.
9. It helps in the building of Cells
If only for its high concentration of vitamin B6—1 medium potato contains over one-half of a milligram of this important nutrient—the potato earns high marks as a health-promoting food.
Vitamin B6 is involved in more than 100 enzymatic reactions. Enzymes are proteins that help chemical reactions take place, so vitamin B6 is active virtually everywhere in the body. Many of the building blocks of protein, amino acids, require B6 for their synthesis, as do the nucleic acids used in the creation of our DNA. Because amino and nucleic acids are such critical parts of new cell formation, vitamin B6 is essential for the formation of virtually all new cells in the body. Heme (the protein center of our red blood cells) and phospholipids (cell membrane components that enable messaging between cells) also depend on vitamin B6 for their creation.
Relieve Premenstrual Symptoms
According to some studies, potato juice could help alleviate Pre -Menstrual Syndrome (PMS) symptoms. The high carb content of potatoes, helps elevate the levels of tryptophan, which further boosts the serotonin production in the body (Serotonin is also called the happiness hormone). This spike in serotonin helps improving mood and reduces anxiety.
11. Relieve Stress
Stress on the body and mind can be eased by ingesting potatoes; cellular renewal is boosted by the rich source of vitamin B6 in potatoes. The creation of adrenaline hormones, which aid in fighting stress, is just one major benefit. They also produce GABA (Gamma Amino Butyric Acid), a hormone that can also reduce stress and help the brain ready itself for relaxation or sleep.
12.  Incredibly Filling
Aside from being nutritious, potatoes are also incredibly filling. Potatoes are also quite filling, which means they may help you lose weight by curbing hunger pains and cravings.
In fact, potatoes were rated as being seven times more filling than croissants, which were ranked as the least filling food item. Foods that are filling may help you regulate or lose weight, as they curb hunger pains.
Tips to Reduce Loss of Nutrients in Potato
Avoid peeling the potatoes before cooking them. The outer shell provides a good protection against nutritional loss during the cooking process. The protein and mineral content beneath the skin is very high, so if you cook them after peeling them, most of these proteins and minerals will be lost.
When you boil potatoes, first heat the water to its boiling point and then add them. This will reduce cooking time and help you maintain the vitamin C content.
Minimize frying of potatoes, as 75% of vitamin C is lost during frying. You can use other cooking methods such as baking and steam cooking.