Description
Pepper: Its types and nutritional benefits
There are different types of pepper available in the Nigerian market. These peppers provide fantastic benefits to the human body. We shall take a cursory look at these peppers and their nutritional benefits.
Red pepper (Red bell pepper)
All peppers are rich in vitamins A, C, and K, but red peppers are simply bursting with them. Antioxidant vitamins A and C help to prevent cell damage, cancer, and diseases related to aging, and they support immune function. They also reduce inflammation like that found in arthritis and asthma. Vitamin K promotes proper blood clotting, strengthens bones, and helps protect cells from oxidative damage.
Red peppers are a good source of the carotenoid called lycopene, which is earning a reputation for helping to prevent prostate cancer as well as cancer of the bladder, cervix, and pancreas. Beta-cryptoxanthin, another carotenoid in red peppers, is holding promise for helping to prevent lung cancer related to smoking and secondhand smoke. Besides being rich in phytochemicals, peppers provide a decent amount of fiber.
Here are the reasons to increase your red pepper (red bell pepper) consumption
It contains high level of vitamin C: Besides being a powerful antioxidant, vitamin C helps the proper absorption of iron. If you are iron deficient, try combining red peppers with your iron source for maximum absorption.
It also contains vitamin B6 and folate. Red pepper is known to contain vitamin B6 and folate which helps to prevent anaemia.
It supports healthy night vision. Red peppers are high in vitamin A, which helps to support healthy eyesight, especially night vision. Certain enzymes in bell peppers, such as lutein, protect the eyes from cataracts and macular degeneration later in life.
Red bell peppers are packed with antioxidants. The combined effects of vitamin A and C create a great antioxidant capacity, and with lycopene in the mix, the red bell pepper becomes a top notch superfood. Lycopene is what makes tomatoes and peppers red. Red peppers are one of the highest veggies in lycopene, which has been shown to help prevent many cancers including prostate and lung.
Burn more calories with red bell peppers. Recent research has shown that sweet red peppers can activate thermogenesis and increase metabolic rate. Red bell peppers do not contain capsaicin, which is what makes peppers hot and causes us to sweat, but they do have a mild thermogenic action that increases our metabolism without increasing our heart rate and blood pressure like the hot peppers do.
It helps to boost the immune system: Red bell pepper contain plenty of vitamin C, which powers up your immune system and keeps the skin youthful.  The highest amount of Vitamin C in a bell pepper is concentrated in the red variety.
It gives various health benefits: The capsaicin in bell peppers has multiple health benefits. Studies show that it reduces 'bad' cholesterol, controls diabetes, brings relief from pain and eases inflammation. It is therefore advisable to eat more of red bell peppers.
It is a powerful nutrient to the body: If cooked for a short period on low heat, bell peppers retain most of their sweet, almost fruity flavor and flavonoid content, which is a powerful nutrient.
It contain high amount of sulphur: The sulphur content in bell peppers makes them play a protective role in certain types of cancers and keeping the body strong.
It boosts the nervous system: Bell peppers also contain vitamin B6, which is essential for the health of the nervous system and helps renew cells.
Hot pepper
Hot peppers' fire comes from capsaicin, which acts on pain receptors, not taste buds, in our mouths. Capsaicin predominates in the white membranes of peppers, imparting its "heat" to seeds as well. The capsaicin in hot peppers has been shown to decrease blood cholesterol and triglycerides, boost immunity, and reduce the risk of stomach ulcers. It used to be thought that hot peppers aggravated ulcers. Instead, they may help kill bacteria in the stomach that can lead to ulcers.
Both hot and sweet peppers contain substances that have been shown to increase the body's heat production and oxygen consumption for about 20 minutes after eating. This is great news; it means your body is burning extra calories, which helps weight loss.
The documented health benefit from hot peppers continues to grow at a break-neck speed, similar to the increasing popularity of consuming hot foods in various forms. The heat and health benefit comes from a chemical called capsaicin.
Historically, spicy additions to food helped prevent spoilage in warm climates before the invention of refrigeration. Capsaicin's anti-microbial properties inhibit as much as 75% of bacteria growth. People from cultures who lived and survived due to the use of various spices passed down to the next of kin spicy recipes and taste buds desiring extra zing in food.
Adding hot peppers, hot sauces and hot powders to food continues to protect us from food poisoning even though we now refrigerate food. To maximize these health benefits, eating the hottest pepper would magnify these effects.
Health benefits of hot peppers.
1. Benefits the Digestive Tract
This may sound counter-intuitive, but the capsaicins in peppers actually act as an anti-irritant. People with ulcers have been told for years to avoid hot spicy foods, but research has revealed that peppers are beneficial to ulcers.
For example, pepper powder provides trace amounts of anti-oxidants and other chemicals to aid digestive issues such as, healing an upset stomach, reducing intestinal gas, curing diarrhea and acting as a natural remedy for cramps.
It does this by reducing the acidity in the digestive tract that causes ulcers. It also helps produce saliva and stimulates gastric juices aiding digestion.
2. Promotes a Healthy Heart
It also aids the circulatory system and prevents heart disease by lowering blood serum cholesterol and reduces lipid deposits, and therefore, reverses excessive blood clotting. It also dilates the blood vessels to aid in blood flow.
3. It reduces migraines
Have you ever had a pain on a body part that was your sole focus until you had another pain that was even worse? The original pain simply disappeared when your brain focused on the new injury.
This phenomenon is what happens to a migraine when you consume hot peppers. Your body becomes desensitized to the migraine and the overall sensation of pain is lessened.
4. Relieves Joint Pain
Due to the powerful pain-relieving properties of the capsaicin from peppers, it can be applied to the skin to reduce the chemical P, the ingredient that carries pain messages to the brain.
Ultimately, the pain receptors exhaust themselves by depleting the body's reserves. Once this happens, the capsaicin acts as a pain reliever. It is used effectively for shingles, HIV neuropathy and other types of pain.
5. Improves metabolism

Spicy peppers revs up the metabolic rate by generating the thermogenic processes in our body that generates heat.
That process utilizes energy, and thereby, burns additional calories. In addition, if hot peppers are consumed at breakfast, the appetite is suppressed, the rest of the day which ultimately helps in weight loss. It may even alter proteins in your body to combat fat accumulation.
Capsaicin also has been studied as a holistic method to for weight loss. It will selectively destroy nerve fibers that send messages from the stomach to the brain.
6. Reduces the risk of cancer
Research also shows that the consumption of large quantities of peppers effective fights against breast, pancreatic and bladder cancers. Since the capsaicin in pepper flesh has anti-oxidant and anti-inflammatory properties, it is therefore known as a cancer-fighter. It reduces the growth of prostate cancer cells, while leaving normal cells unharmed.
7. Fights the Flu, Colds and Fungal Infections
Hot peppers are chalked full of beta carotene and antioxidants that support your immune system and will aid in fighting off colds and the flu.
Research has found that nasal sprays containing capsaicin reduce congestion. Increased body temperature from the ingestion of hot peppers, triggers the immune system into action in fighting the norovirus (cold), flu viruses. Consumption of peppers fights against 16 fungal strains by reducing fungal pathogens.
8. Prevents Allergies
Due to the anti-inflammatory benefits of capsaicin, hot peppers can help prevent allergies and symptoms from allergies.
Green peppers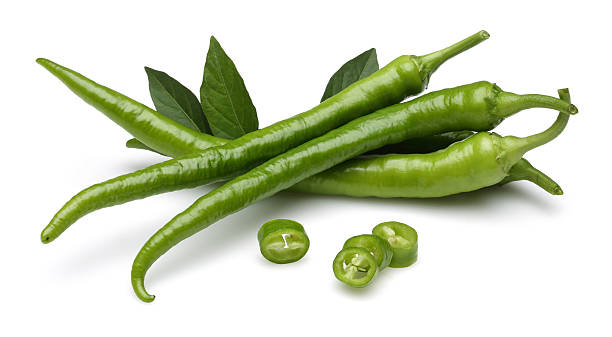 Did you know that green peppers are just unripe red peppers? Because they are not fully mature, they have a bitter after taste, and half the vitamin C and 1/10th the vitamin A compared to their red or orange siblings. Vitamin A is important for eye health, and vitamin C may prevent the common cold.
Paprika and chili peppers offer the same benefits, but with extra capsaicin, a chemical that can produce a strong burning sensation in the mouth. It's not in red peppers because a recessive gene eliminates it.
Organic Peppers
You already know that peppers add great taste to your favorite dishes. You might not know what superior healing agents organic peppers can be and how much they can promote your health. I would like to tell you just how much delicious organic hot peppers can do for you.
Different peppers produce a slightly different burn, from mild to very hot. The hottest peppers of the genus capsaicin, such as cayenne and jalapeño peppers, produce a sensation of fire in your mouth.
When that fire hits, your mouth sends a signal to your brain which releases natural pain relievers and endorphins. It's good to go for the burn, but do so in moderation.
Health Benefits of Organic Peppers
Reduce Redness and Swelling
Organic pepper helps to reduce redness and swelling of the body.
Ease the Common Cold
Organic peppers clear out congested mucus membranes in the nose and lungs and cause sweating which is one way your body eliminates toxins.
Soothe and Balance Your Stomach
Added to your diet, organic peppers help improve digestion by stimulating the flow of stomach secretions and eliminating the discomfort of excess gas.
Support Blood Circulation
Hot peppers such as cayenne stimulates blood flow naturally.
Promote Healthy Lipid Profiles
Acting as a thinning agent, organic peppers help dissolve fibrin, the insoluble protein that builds up in your blood vessels which might cause blood clots.
Control Your Weight
Organic hot peppers can reduce your appetite by making you feel full faster, thereby, reducing the body weight.
Function as an Anti-oxidant
The beta-carotene in cayenne and other organic peppers works as an antioxidant that counteracts the damage caused by free radicals.
In addition to the benefits listed above, habanero peppers can also help:
Trigger endorphins
Lower triglycerides
Supports circulation
Promotes normal, balanced blood pressure
Fight potential heart disease